Sognsvann Lake
Take a walk around - or on - Sognsvann lake and watch the locals jog past or ski off into the distance.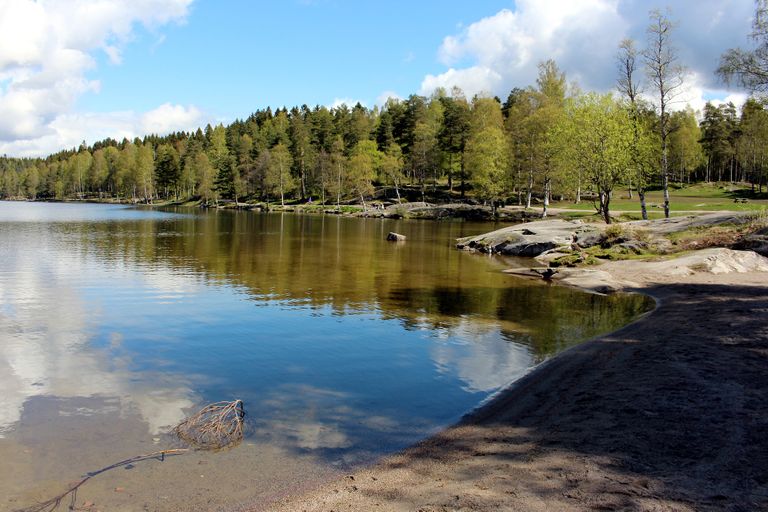 To get an idea of how tightly nature is integrated with the city of Oslo, jump on the line 5 metro to Sognsvann. You will be taken up and out of the city, right to the edge of the forest. Take a walk around - or on - Sognsvann lake and watch the locals jog past or ski off into the distance.
Once you're off the metro, keep walking the direction you were heading. You will quickly see the small kiosk and the lake. There is a 3.2km path looping around the lake. It's an easy walk, but watch your step in colder times as it can get quite slippery.
Being so easy to access and with a lit path, Sognsvann is a very popular place to walk and jog all year round. When there is snow on the ground you'll see plenty of people with their cross-country skis using Sognsvann as a starting point for heading farther into the forest. You might also notice some brave souls walking and ice-skating across the frozen surface, join them for a quick thrill. During the weekends it gets quite busy with locals and their strollers filling the path, so head up earlier on weekdays if you're a fan of solitude.
In the warmer months it is possible to swim in Sognsvann. It's not the best spot in Oslo for a dip though and some people have an allergic reaction to the tiny bugs in the water. Instead, I'd recommend visiting the supermarket beforehand and bringing a picnic to enjoy next to the lake. Otherwise, for a taste of local culture, splash out on a waffle and coffee from the kiosk. There are free, basic toilets available close by as well.
Sognsvann is an excellent starting point for several longer, but relatively easy, hikes. A popular route is to head west towards Frognerseteren (~1.5 hours) where you will find a café for a coffee with a view before you jump on the line 1 metro back into the city. The trails are well marked with blue signs (the red signs are for ski trails).
A trip to Sognsvann can be a cheap half-day activity, especially if you pack a little picnic. It also gives a nice little insight into local recreation. The only costs involved are the metro tickets to get there and back. You'll need a couple of single tickets if you don't have a transport pass, which you can buy from machines at the metro stops. Payment is by card only. If you want some more info on public transport in Oslo, check out the guide.