Mathallen
Mathallen, "the food hall", is located in a beautifully renovated former iron foundry on the western edge of stylish Grünerløkka.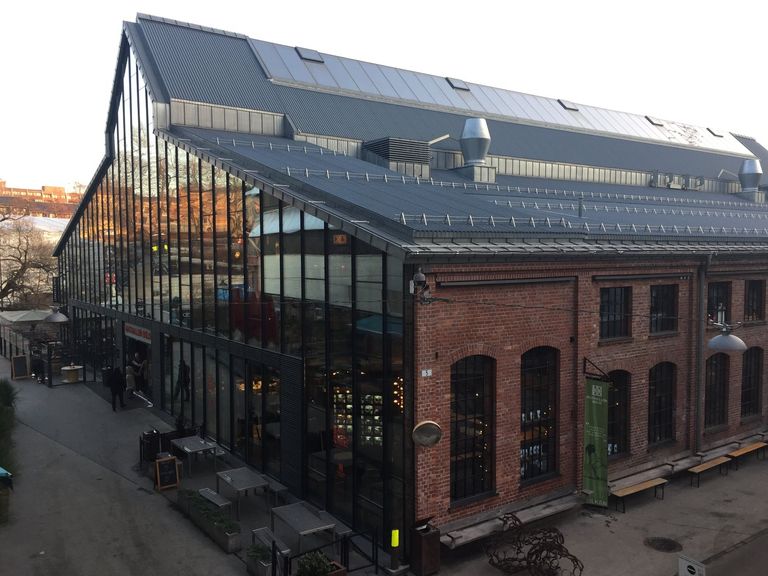 Mathallen, "the food hall", is located in a beautifully renovated former iron foundry on the western edge of stylish Grünerløkka. Mathallen sits alongside the Aker river and makes for an excellent stop off during a river walk. It's also open on Sundays, which is a pleasant change, but closed on Mondays. It's not your typical fruit and veg market but more of a showcase of specialty food and drinks, both Norwegian and international. Prices are accordingly high but there is excellent coffee and good deals to be had, so it's always worth stopping by.
What's on offer #
There is good quality food and drinks on offer at Mathallen, but don't assume everything is of the same standard. As with the rest of Oslo, you don't always get what you pay for. While you're considering whether to grab a duck confit sandwich or sit down for some pricey jazzed-up street food, you can get free tap water, free Wi-Fi, and a nice free toilet.
Since Mathallen opened in 2012, shops and restaurants have come and gone in the struggle to find a solid concept and make a profit. These days you'll find an array of tapas places, featuring Asian and more traditional Spanish and Basque flavours. Various takes on street food are available (check out Hitchhiker upstairs for delicious lunch options at around 150 NOK) and Italian and French cuisines also feature heavily. If you've come to Oslo looking for seafood, Mathallen is a bit of a let down. The dishes at Vulkan Fisk start at 175 NOK for fish and chips. Crazy. Those with a sweet tooth will not be disappointed with sugary buns, chocolate, macarons, and fantastic ice cream available. The Solberg & Hansen concept shop will sort you out with some delicious pour over coffee (or tea!). There are plenty of places serving beer and wine and you can head downstairs to the long bar in Smelteverket if you want to escape a little. Your options expand beyond Mathallen itself, with the small surrounding area known as Vulkan home to more shops, restaurants and bars. Sourdough fans should trek up the stairs and visit Handwerk for beautiful bread.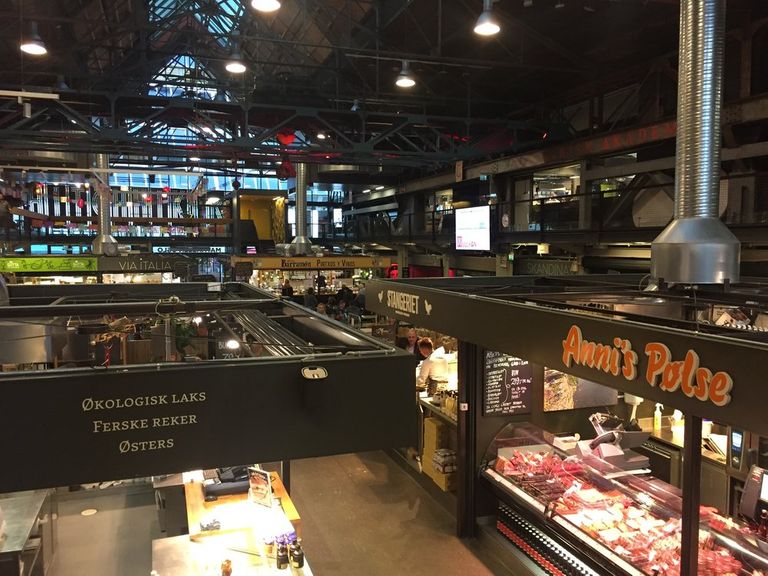 The best deals #
If you wander into Mathallen and your tummy starts grumbling, it can bring on a bit of a sweat. A pie for over 95 NOK is pretty outrageous when a better version can be had in any Australian bakery for no more than 25 NOK. You can relax though, there are some delicious options that won't make you cringe (too much) at the register:
Obento Box: Pre-packaged meals from 69 NOK.
Ma Poule: Duck confit sandwich, 79 NOK. Including drink, 100 NOK. Get extra duck for 20 NOK.
Vulkan Fisk: Fish burger, 79 NOK.
Stange: Pulled chicken or turkey sandwich, 80 NOK. Chicken burger, 90 NOK.
Via Italia: Tagliatelle or gnocchi with pesto or tomato sauce, 99 NOK.
Mathallen's opening hours are as follows. Note that each shop and restaurant has individual hours inside these times and most will close in the early evening.
Monday: Closed
Tuesday-Thursday: 8am-1am
Friday: 8am-3am
Saturday: 9.30am-3am
Sunday: 9.30am-1am