Supermarkets
Here is the low-down on Oslo's supermarkets and the chains you should be keeping an eye out for.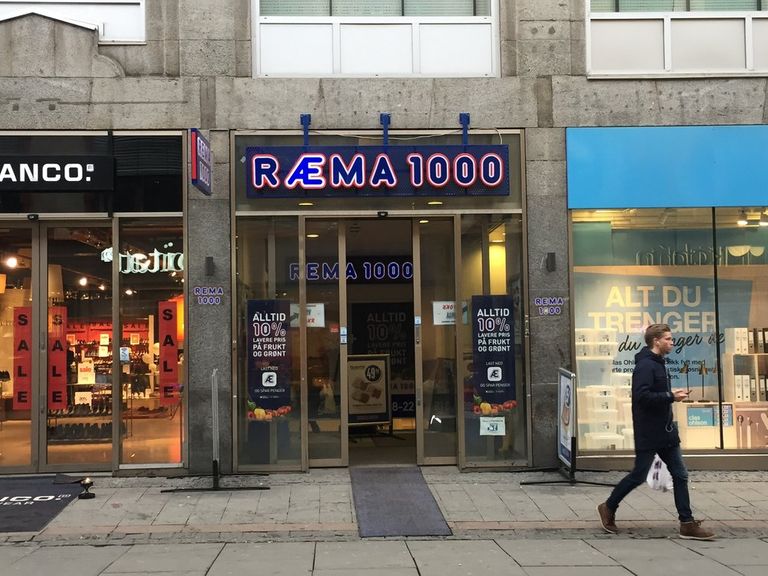 One of the cheapest ways to feed yourself on the road is to stroll the aisles of the local supermarket and pick up some cheap carbs. Plus, it's fun to watch the locals shop. Here is the low-down on Oslo's supermarkets and the chains you should be keeping an eye out for.
The supermarket chains of Norway are controlled by three large companies. Supposedly there is a "price-war" and several chains are constantly advertising about being the cheapest, but as a visitor you would think the war is a fight for who can charge the most. Get ready for everything to be more expensive than it is back home. Except if you're a massive smoked salmon eater. It's probably cheaper in Norway. Stick to your staples to keep your costs down. Think bread rolls, fruit, yogurt, and packet soups. If you're looking for booze, things work a little differently so be sure you are prepared.
Most supermarkets will open at 7 or 8 a.m. and close between 8 and 11 p.m. during the week. On Saturdays they will open a little later and close a little earlier. On Sundays, only shops with a floorspace of 100 square metres or less can open. This means most supermarkets are closed and explains why it feels as though the aisles are closing in on you in some shops. The Sunday-open shops seem to cater mostly for hungover people and I think they make 90% of their revenue as the locals binge on Coke and frozen pizza.
IF YOU'RE IN TOWN FOR THE WEEKEND, GET YOUR SHOPPING DONE ON SATURDAY. WAITING UNTIL SUNDAY MAY CAUSE ANGER, DISAPPOINTMENT, AND HATE-EATING A FROZEN PIZZA.
Inside the shop it's pretty much like any normal supermarket. You'll notice that the display-the-stuff-in-the-box-it-came-in approach is common and that sometimes you have to unpack those boxes yourself. I find myself doing that a lot with tonic water. Remind me again why we are paying so much? Loose fruit and veg are weighed at the register. There are always allergy friendly foods available, especially lactose- and gluten-free products.
You can pay with either cash or card and staff almost always speak English. At the checkout they will ask you if you want a bag and then if you want your receipt. Bags are charged at around 1 NOK each. Bag up your stuff and you're all set. Now that you're all prepared, here are the chains you will spot around town:
REMA 1000 #
REMA Tusen is a decent option for a good selection at cheaper prices (except beer). The stores are usually a decent size and you'll likely find anything you need. The gluten-free selection at REMA has steadily increased and is decent value for money.
Central locations: Torggata 2, Christian Krohgsgate 1-11, Universitetsgata 7, Maridalsveien 15 (by Mathallen))
KIWI #
KIWI is handy for snacks and drinks and competes directly with REMA. I sometimes find KIWI a little more depressing than REMA, but it depends on the store. When I first moved to Oslo our closest supermarket was a small KIWI. A shopping trip always turned sour. If you didn't know what you wanted you were in trouble because they offer zero inspiration. If you had a carefully crafted shopping list, half the things you wanted wouldn't be on the shelf. It caused me to blacklist KIWI for years, but after living in Oslo for a while now I know this problem exists with all the supermarkets.
Central locations: Jernbanetorget 9 (Byporten), Storgata 33, Dronning Eufemias gate 38 (Barcode), St. Olavsplass 3, Møllergata 56-58, Markveien 35B
MENY #
MENY is the fancy supermarket chain. If you can't find a product at KIWI or REMA, head for MENY. Almost everything at MENY is more expensive though so if you are doing a big shop, do that somewhere else. MENY gets bonus points for self-checkout registers (although only in Norwegian I believe).
Central locations: Stenersgaten 1, (Oslo City), Smalgangen 49, Sannergata 6C (Ringnes Park)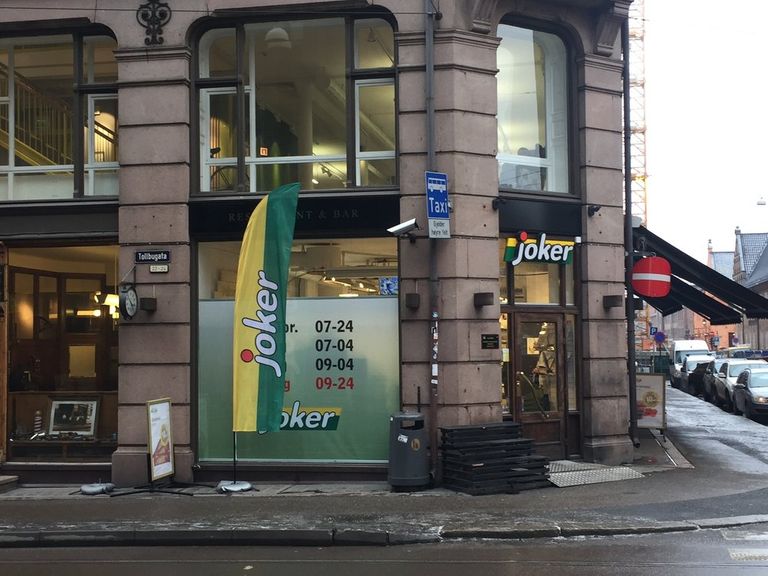 Joker #
Almost all Jokers are tiny because they are open Sundays as well. There are lots of them around, sometimes just two blocks apart. They are often open until midnight and sometimes later. Expect prices to be higher than KIWI and REMA. If you're bored on a Sunday, pop in and watch the locals struggle through the shop as their sleep-deprived bodies scream at them to go home to the sofa.
Central locations: Jernbanetorget 1 (Oslo S), Tollbugata 24, Olav Selvaags Plass 4, Storgata 95
As you're walking around you might also stumble across one of the confusing array of Coop-branded stores (some cheaper, some with a bigger selection) and Bunnpris (which is a lot like Joker).